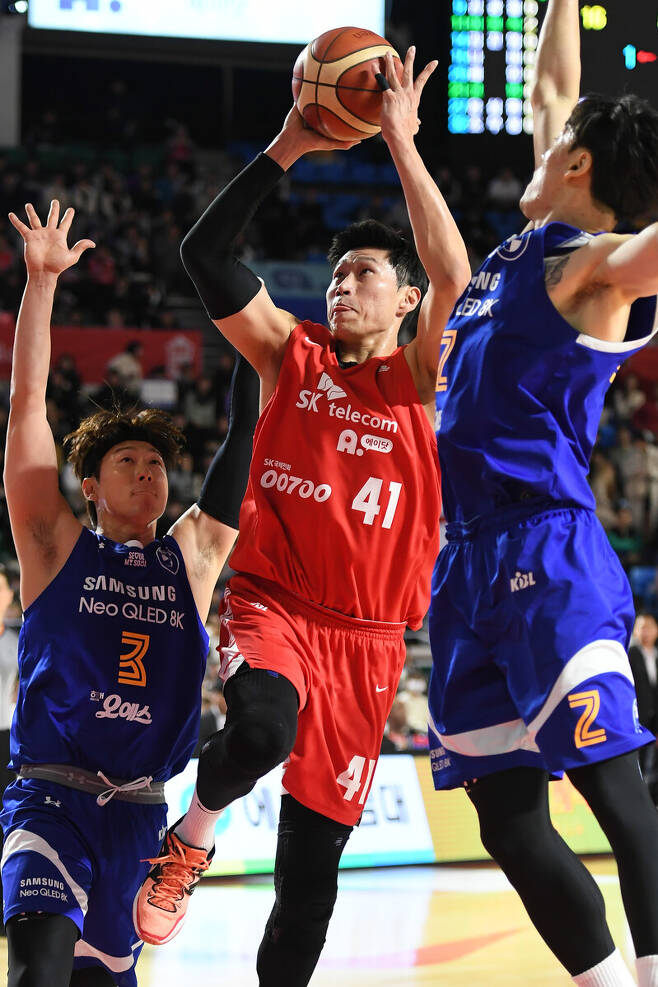 Seoul SK defeated Seoul Samseong 82-75 in the regular season finale of the 2023-2024 Korean Basketball Association on Tuesday at Jamsil Student Gymnasium. The win was SK's third straight. They moved into a tie for third place with Changwon LG (7-4).
Oh Se-geun (200 cm, C) led the way in the win. He scored the most points (15) among SK's domestic players and grabbed the most rebounds (8) among both teams' domestic players.
After the game, Oh said, "I've been struggling personally, but my form has improved since the last game. We've won three games in a row, so I think the team's mood is also improving. I think we can continue to win," he said.
"We didn't control the rebounding in the first quarter. Our defense wasn't there. On offense, we didn't capitalize on Jamil Warney's mismatches. After that, we made mistakes, but we organized well," he said of the Samsung game.
Meanwhile, Oh has been the center of attention in the 2023 free agency market. He chose SK over Anyang's Chung Kwan-jang, who had been with him since his debut.
"There were a lot of changes in my movements, the number of times I touched the ball, and my playing time. I'm still adapting. The coach worries a lot about my shooting, but I'm also finding my shooting touch. As the rounds progress, I think my shooting feeling will improve," he said, referring to 'adaptation' and 'shooting feeling'.
"The players on the field tend to talk a lot, and even during the game, they keep talking and touching each other. There are a lot of experienced players, so there's not much to talk about on the bench," he said, citing "communication" and "many veteran resources" as the difference between him and Jung Kwan-jang.
Meanwhile, SK played its first home game in about a month. Prior to that, they played eight consecutive away games. "I've never played a schedule like this before," said Oh. I had to play this schedule right after I transferred, so it was harder to get used to, but it's definitely comfortable to hear the fans cheering at home," he said, referring to the "difficult schedule" and "first home game in a long time.
Commenting on the schedule, Oh said, "I think (the team's performance) is about half of what I thought it would be. Me and (Kim) Sun-hyung weren't in perfect shape, and Ahn Young-joon is back now. But I think we'll be a scarier team in the future," he said, foreshadowing a different SK.
He continued, "(The next game) against DB is at home. Since our physical condition is improving, we will be able to play a different game from the last time," he said.
Still in the process of adjusting, Oh was dominant under the basket for Samsung. "Against DB, it's important to fight for height. That's why we're looking forward to seeing him get even better.