Mistake after mistake at Gocheok Dome on a rainy 'baseball day'…winner is Doosan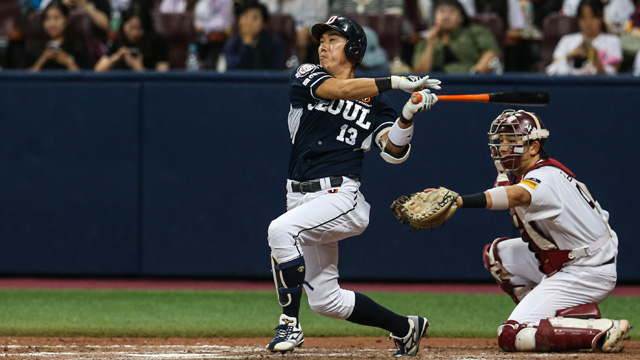 On the 15th anniversary of Baseball Day, which commemorates the day South Korea won gold in baseball at the Beijing Olympics on August 23, 2008, only one professional baseball game was played.
Four games were canceled due to the rainy season, and only the Doosan Bears and Kiwoom Heroes faced off at Seoul's Gocheok Sky Dome.
In a game that was watched closely by fans of all 10 KBO clubs, the two teams traded costly errors.
Doosan rode a 13-hit batting lineup and six innings of three-run pitching from Brandon Waddell to an 11-4 victory over visiting Kiwoom in the 2023 Shinhan Bank SOL KBO League on Wednesday.
With the win, fifth-ranked Doosan extended its winning streak to six games against Kiwoom and moved within 1.5 games of the sixth-ranked KIA Tigers, who were without a game.
Doosan took the lead in the top of the first inning on Rojas' RBI double with runners on first and second, and Kiwoom answered with a run in the bottom of the inning on Kim Hwijip's sacrifice fly.
After a lull, the game's momentum shifted dramatically when both teams committed errors.
In the top of the fifth inning, Kiwoom's No. 4 hitter, Song Sung-moon, hit an infield grounder straight to the second baseman.
A normal defense would have ended the inning, but Doosan second baseman Kang Seung-ho, who caught the ball, attempted a backhanded throw to second base, sending two runners home.
Doosan capitalized on Kiwoom's error to turn the game around.
In the top of the sixth inning, Kang Seung-ho singled to right field, but Kiwoom right fielder Lim Byung-wook made a bad throw to catch Kim Jae-hwan, who was running to third base.
Lim's throw went into the Doosan dugout, allowing all runners to advance two bases safely, bringing home Kim Jae-hwan and advancing pinch runner Kang Seung-ho to third.
With the bases loaded, Heo Kyung-min followed with an RBI single to bring the game back to 4-3.
In the top of the seventh inning, Doosan scored one run on a Rojas double, and in the bottom of the seventh inning, Kiwoom scored one run on Kim Hwijip's seventh home run of the season.
Mistakes were made again.
Doosan scored a run in the eighth on back-to-back doubles by Kang Seung-ho and Heo Kyung-min, and a walk to pinch-hitter Yang Yang-ji put runners on first and second with no outs.
Kiwoom second baseman Kim Hye-sung missed a throw from pitcher Kim Jae-woong on a grounder in front of the pitcher, allowing the runners to cross the plate and extend the lead to 7-4.
With runners on first and third, Kiwoom reliever Ha Young-min made a throwing error at first base that allowed third baseman Yang Yang-ji to score.
With the run, Yang became the 37th player in KBO history to reach 800 runs.
Doosan added three runs in the bottom of the ninth to seal the win.
Doosan starter Brandon was hit in the back of the head by Ronnie Dawson's straight hit in the first inning, but he threw 115 pitches through six innings, allowing three runs (two earned) on seven hits with three walks and three strikeouts to improve to 6-3 on the season.
Dusan Rojas went 2-for-5 with a home run and three RBIs, 카지노사이트킴 while Kyung-min Heo went 3-for-5 with a home run and three RBIs.