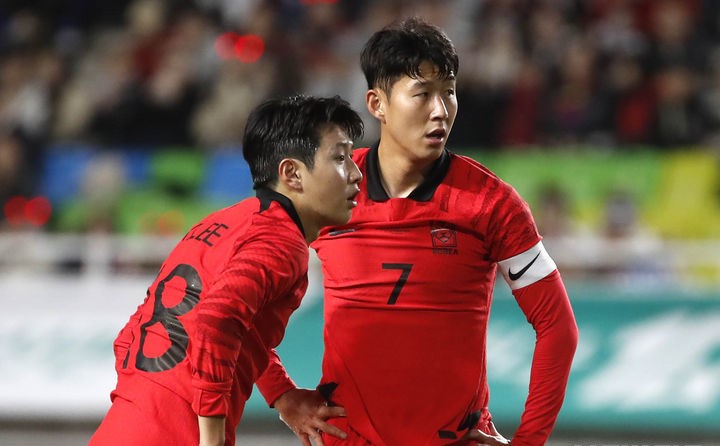 Back-to-back goals in two October A matches
1 goal and 1 assist against Vietnam
Lee Kang-in
(22-Paris Saint-Germain) scored a goal in his second consecutive A Match as the Korean national team took advantage of Vietnam's tight defense.
Lee had a goal and an assist to help the Klinsmanns to a 6-0 victory over Vietnam in their second A-
match trial of October at the Suwon World Cup Stadium on Sunday at 8pm.
Lee set up Kim Min-jae's
(Bayern Munich) header for the opening goal with a sharp cross from a corner set piece five minutes into
the match. In the 25th minute, with the score 4-0, he received a pass from Son Heung-min (Tottenham)
at the front of the penalty box and calmly struck with his left foot to find the back of the Vietnam net.
Lee Kang-in, who scored a multi-goal performance against Tunisia on Nov. 13, including his A-match debut, showed off his offensive prowess for the second straight game.
"I'm very happy to get the win," Lee said,
"Even if I'm not a goalie, I'm still in an offensive position, so I always try to score goals, make assists, and
challenge myself. I'm happy that I was able to get a goal and an assist."
"The most important thing is that the team wins, so I'm happy for the team to win," he added.
Kim Min-jae's partnership on a corner kick set piece led to a goal for the second straight game against
Tunisia. Against Tunisia, the goal was not recorded as a goal by Kim Min-jae as the ball hit the opponent's defense.
Lee said, "I don't think I'm looking at anyone in particular, but I think I'm coordinating well in training and
putting crosses into certain areas. The players seem to be putting it in well," he said, adding, "I will
continue to coordinate well and wait for more goals."
Lee won a gold medal at the recently concluded 2022 Hangzhou Asian Games and received military service benefits. He now has a stable career ahead of him.
After watching Lee's performance against Tunisia, South Korean soccer icon and captain Son Heung-min
said, "I'm saying this with a smile on my face, but I think you can do without me now."
Lee Kang-in responded
"I think all soccer fans and all soccer people around the world know, (Son) Heung-min, there is nothing to
say. The synergy is very helpful not only for me but also for the team," he said, adding, "I think we will
have to work hard in many more matches and many more competitions so that we can always bring good results."
After battling through an injury last month to play in the Asian Games and an October A match, Lee will
now return to his club, Paris Saint-Germain (PSG).
"I might come back and play a lot, or I might not. I don't know what will happen, so I will always try to do my best and be in the best shape to give my best performance," he said. 슬롯사이트